Soul @ The Barhouse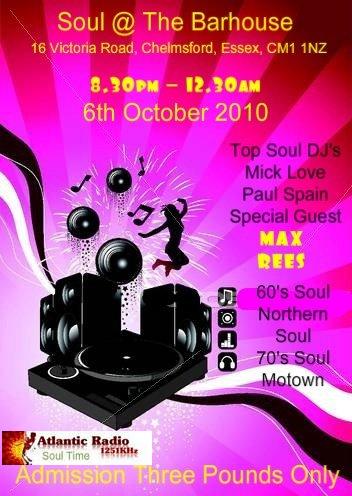 The Next Soul @ The Barhouse is on 6th October 2010, with very special guest Max Rees (Cambridge). Max was involved with the Howard Mallett Club in Cambridge which was running at the same time as The Wigan Casino and Blackpool's Mecca Clubs. Max is a well respected DJ not only among the Cambridge Soul Collective and in East Anglia but all across the UK.
I for one am looking forward to this night as it will be a Soul education, Max is responsible for getting people to open there ears to others forms of Soul music other than the 4 x 4 beats to the bar Northern Soul. Which fits in with whole point of Soul @ The Barhouse.
If you'r a Soul Music fan then this event is a MUST attend. I look forward to seeing you there.